CBCA Younger Readers' Book adaptation
for Book Week & Literacy Week
Available term 3

About the show:
Each year, in celebration of Book Week and Literacy Week, we adapt one of the books shortlisted for the CBCA Younger Readers Book of The Year Award.
We create a 40 minute musical production including original songs and puppetry.
This year's chosen book is Captain Jimmy Cook Discovers Third Grade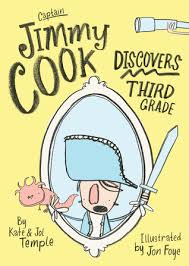 by Kate & Jol Temple
Jimmy Cook has discovered that he has quite a lot in common with the explorer Captain James Cook. He's determined to travel to Hawaii to finish what he started.
Captain Jimmy Cook… lends itself to many aspects of the school curriculum:
History and the use of primary sources
Family history and it's importance to self-perception
Art as a primary source and its interpretation as an historical record
Mental and Physical Health: discussion about the competition between James and Alice
Key Learning Areas: Drama, Dance, Music, SOSE, Literacy
Suitable for:  Grades 4 to 8
Pricing:
$8.80 (exc. GST) per student.
Please note there is a minimum of $880 (exc. GST) for up to 100 students
Our previous adaptations: