CBCA Book Week 2022
Available Term 3 – In-school & online
We have four teams of performers on this tour:
Two teams are Sydney based and will only tour in NSW & ACT
One team is Brisbane based and will only tour in QLD
One team is Melbourne based and will tour in VIC, SA & TAS
Curriculum Areas: English; Critical & Creative Thinking; Arts

Suitable for:
Picture Book adaptation – Prep to Grade 6
Younger Readers adaptation – Grades 3 to 7
Teacher resource pack included
Session length:  1 hour including Q&A
Online option available – see the details at the bottom of the page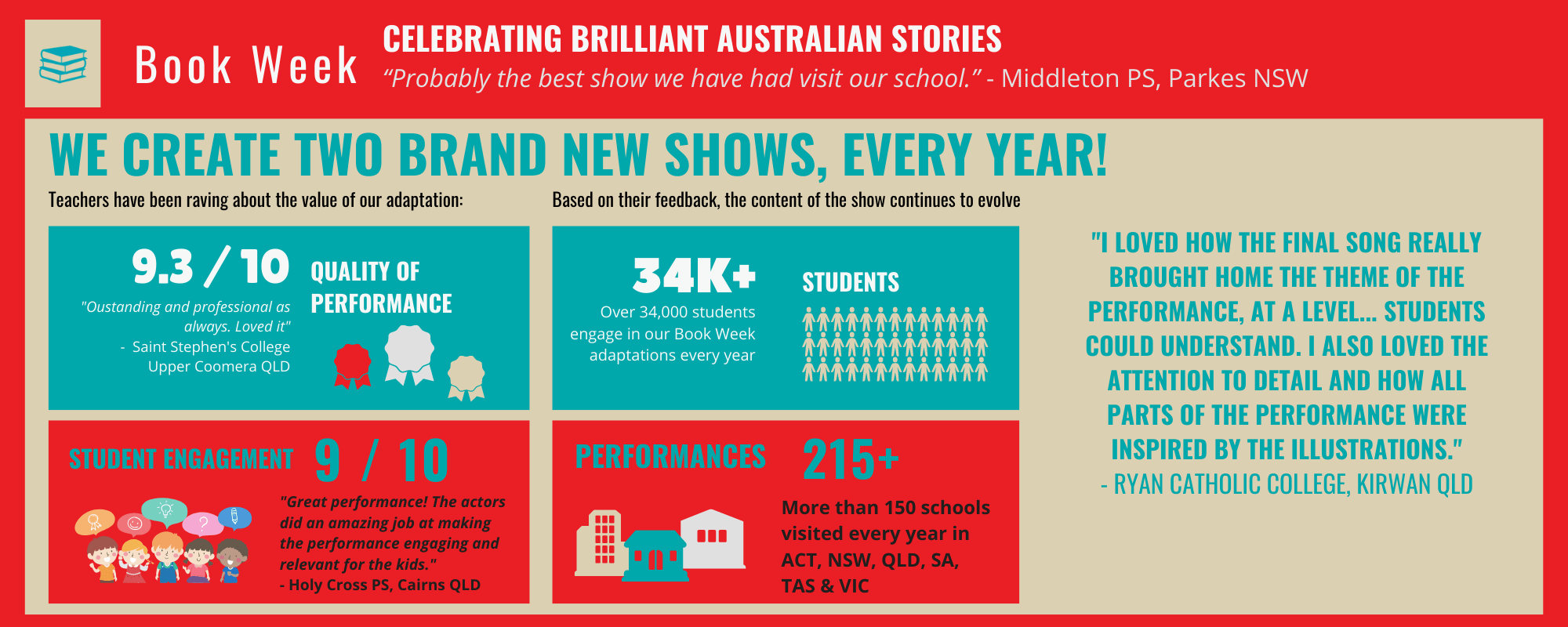 About the shows:
Each year, in celebration of Book Week, we adapt two books shortlisted by the Children's Book Council of Australia (CBCA) for the Book of The Year Awards
We choose one book from the Picture Book category & one book from the Younger Readers Chapter Book category and create two 40-minute musical productions including original songs and puppetry.
As far as we're aware, we're the only company adapting both a picture book and a younger readers chapter book each year; therefore, ensuring age appropriate performances for all students.
We also support Australian authors by paying royalties for every child that attends a performance of one of our adaptations.
The chosen books are announced in May; however, with most schools rebooking year after year, the tour starts to sell out from the previous Book Week so make sure you book early to avoid disappointment!
Includes a teacher resource pack and a targeted, structured question time with the performers which explores the themes of the books and performances and also supports Inquiry learning as we discuss how the shows were produced and how the puppets and props were made.
2022's adaptations:
We are delighted to be adapting the following books for Book Week 2022:

Stellarphant by James Foley
Stella the elephant is fighting interstellar discrimination one pachyderm at a time! Stella wants to be an astronaut. There is only one problem: Stella is an elephant. Every time she applies to Space Command, they come up with a new reason she can't join. But where there's a will, there's a way and Stella is determined to reach for the stars.
PRAISE FOR THE BOOK
'Foley's cartoon-like illustrations bring multiple layers of meaning and humour to the story.' Buzz Words Magazine
'A great read aloud, an informative introduction to the idea of space travel as well as promoting inclusivity, Stella is an engaging character who will cheer readers with her positive outlook.' ReadPlus

The Detective's Guide to Ocean Travel by Nicki Greenberg
A thrilling adventure from perfect for fans of Murder Most Unladylike and The Good Thieves.
From the decadent food to the star-studded passenger list, travelling First Class on Aquitania is every bit as glamorous as Pepper had imagined. And most dazzling of all is American stage sensation Perdita West, wearing the world-famous Saffron Diamond around her neck. When the priceless jewel disappears mid-voyage, Pepper unexpectedly finds herself entangled in the crime.
With the Captain's reputation at stake, Pepper and her new friends set out to solve the mystery. But finding a missing diamond isn't so easy on Aquitania, where everyone has something to hide …
Q&A:
We include a structured and informative Q&A session which supports the school's delivery of the Critical and Creative Thinking curriculum.  We discuss the themes raised in the show and support Inquiry Learning by discussing how we made the set, puppets, music, etc.
"Was great how it was run by you and not just the kids asking random questions. (10/10)" – Bargara State School, Bargara QLD
Online option:
If it's not possible for you to host a performance we have another option.  Each year we prepare a professional recording of both adaptations.
How it works:
We'll make the professional recording available for the whole of Book Week so you can watch it whenever, and however often, you like during that week. If you'd prefer access in a different week, let us know and we can arrange it. The link is sharable with individual classes or students so you can watch the show in the way that works best for you.
A pre-recorded Q&A will be attached to each performance, along with a Teacher Resource Pack.  The Q&A includes questions with the performers and the creative team and we'll supply it as a separate link so you can refer to it whenever you want.
In-School pricing:
$8.80 (exc. GST) per student.
Please note there is a minimum fee of $880 (exc. GST) for up to 100 students
Online pricing:
Pricing is based on a fee of $85 inc. GST per class.  This assumes there are approx. 25 students per class so if your school has smaller class sizes let us know and we'll work out a price with you.  When you enquire please indicate the number of students and the number of classes you wish to book for.
Previous Picture Book adaptations:
Adaptations from 2001 to 2014 were adapted and performed by Tony Bones Entertainment before the company rebranded to Meerkat Productions.
Previous Younger Reader chapter book adaptations:
Adaptations from 2000 to 2014 were adapted and performed by Tony Bones Entertainment before the company rebranded to Meerkat Productions.